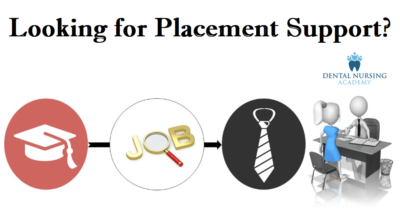 Placement Support
Dental nursing can be an incredibly rewarding career, but if you're just starting out, or rather, thinking of starting out, then you may find yourself in a catch 22 situation. In many cases, you can't enroll on a training course without already working within the industry, but on the flip side, it can be equally as hard to find work as a trainee when you have NO experience.
Of course, you may be lucky enough to 'know someone who knows someone' who in turn is prepared to take you on as a paid trainee where you can learn about instruments, dental
procedures, hygiene and decontamination and… if you're lucky, allow you to watch some real dentistry being carried out. However, more often than not, this is the exception rather than the rule.
For the remainder, it means writing lots of applications, knocking on doors and probably, a whole heap of rejection. Not a great start to a career, you really want to get into right?
Now for the good news….
The Alternative Training Route
Here at the Dental Nursing Academy, we offer you another route in to training. A route that takes people like you with no experience, gives them the most modern up-to-date dental nursing
training AND at the same time will help you find the right placement. Suddenly you get to do something you really want to do and get paid while doing it.
So, how does that work? Let's take a closer look…
Specialist In-house recruitment team
We're one of just a few dental nurse training centers to have our very own in-house recruitment team. Our team are highly experienced in recruitment within the dental industry and will pull out
all the stops to get you a placement within a practice environment.
Using a variety of methods, we'll get you up to speed with interview techniques, show you how to make your CV as appealing as it can be, and even help you to manage your pre-interview
nerves using proven confidence-building methods that work.
We'll then use our extensive range of contacts within the industry to help you get your foot through the door. While recruitment agencies offer similar training for people needing help
finding work placements, the difference is that when you choose the Dental Nursing Academy for your dental nursing course, in-house recruitment is all part of the service.
So can we guarantee you a placement?
While it wouldn't be fair to fully guarantee everyone a clinical placement, what we will say is that since 2014 using our extensive network of connections, we've helped hundreds of dental nurses
to find a placement within the industry where they can earn while they learn. What's more, because we also offer free first aid training and ensure that all our recruits are Hep
B immunised – a necessary requirement for all clinical professionals – it gives you an advantage over other potential employees.
At Dental Nursing Academy we're passionate about supporting people every step of the way in their dental nursing journey, so why don't you let us support you? To find out more, email us at
info@dentalnursingacademy.co.uk today. You never know, your dream dental nursing career