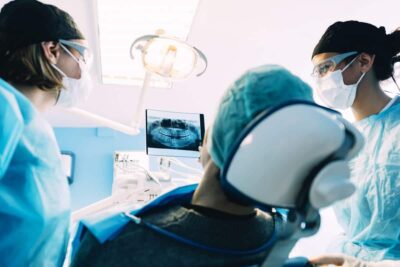 Level 3 Diploma
Are you interested in entering a career in dental care? If so, then our CACHE Level 3 diploma is just for you. This apprenticeship, covering the principles and practices of dental nursing, leads to the qualification that's required for anyone who wishes to practice as a dental nurse. Once completed, you'll gain a qualification that's nationally recognised and allows you to work in a dental practice as a registered dental nurse with the GDC (General Dental Council).
Further career opportunities for dental nurses
 But it doesn't end there…. While this qualification allow you to work as a registered dental nurse, it's also one of the few courses that can open the doors to further progress. For example, it allows you access to gain nationally recognised qualifications in other related areas such as:
  Dental sedation
  Dental radiography
  Oral health education
  Orthodontic nursing
  Dental Practice Management
  Special care dental nursing
 Moreover, a level 3 CACHE Diploma in Dental Nursing can also lead to other career options allowing you to specialise and/or diversify. These include becoming a dental hygienist/therapist, an orthodontic therapist, a dental technician, or even a lecturer and assessor of dental students. As you can see once you have this qualification, the opportunities are plentiful!
What does the course involve?
 As a trainee dental nurse, you'll need experience of working within a dental environment. This means you'll need to have a job secured at a dental practice first; but don't worry, our recruitment team will help find you a placement if needed. It's advised that at least 16 hours a week is spent in the dental environment, while the remainder of your training will be allocated to learning theory-based subjects that accompany your hands-on learning.
 Regular clinical assessments will be carried out at your place of work by our experienced dental assessors. Along with this, you'll have two multiple choice exams and a series of short assignments to complete.
Your dental nursing training will cover a range of key subjects, focusing on:
  Understanding the responsibilities and roles of a dental nurse
  Chair side support during procedures
  Patient record keeping
  Good communication skills between the dental team and patients
  Maintaining and decontaminating instruments
  First aid training and CPR
If you're interested in beginning a rewarding career in dentistry and would like to start training as a dental nurse, contact us today for more information about our Level 3 Diploma in Dental Nursing on 020 3875 0569 or email us on info@dentalnursingacademy.co.uk. Just think, this time next year not only could you have a satisfying and rewarding career, but also you'll hold a recognised industry qualification that has the ability to take you wherever you want to go.